FOOTBALL
Introduction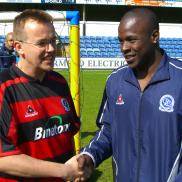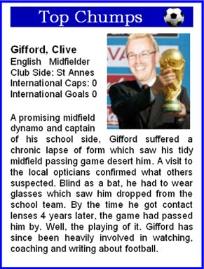 Welcome to my webpages devoted to football. Despite being a lifelong fan of English Championship side, QPR, I am still in love with the game of football and the action, drama and controversy it generates. Not being able to play as much as I liked (see Top Chumps card), I've contented myself with casual kickarounds, watching, reading and writing enthusiastically about the sport as well as giving the occasional coaching session.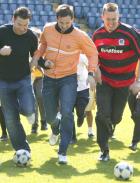 Click through the following pages to see The Books and learn more about Clive's writing followed by Improve Your Game with advice for young footballers on techniques, tactics and attitude.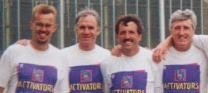 Clive (left) on the move at QPR
and (above) with ex-England players
Dave Watson, Alan Kennedy and
David Johnson after a kids' coaching
session.
Quotes and Stories
showcases some of football's marvellous records, trivia and quotes and is currently packed with lots of World Cup action.
Hit The Net
is a collection of links to excellent, child-safe football websites, many of which are of interest to adults.

Next Page: The Books