Science & Technology
Brain Twisters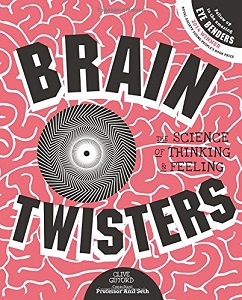 Housed in its bony crash helmet, your brain is shaped like a cauliflower feels a little like wet tofu and s one of the most astonishing and powerful creations in nature. Brain Twisters, the follow-up to the award-winning Eye Benders delves deep inside your brain to describe its structures and functions, how it communicates with other parts of your body and how it is responsible for your thoughts, skills, memory, feelings and how you interact with the world. The book contains many activities allowing readers to get to grips with their own brain and its incredible abilities.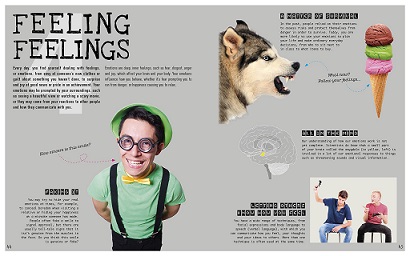 ---
Ultimate Animal Criminals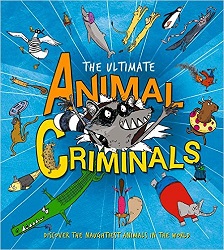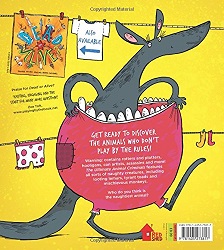 Locked inside this barmy book is an astonishing collection of real life criminal creatures from looting lemurs and knicker-nicking kangaroos to bullying fish and an octopus that repeatedly vandalised an aquarium. Sarah Horne's stunningly comic illustrations bring the miscreants to life in a great gift book for any reader interested in just how bad creatures can be.
---
Eye Benders: The Science of Seeing & Believing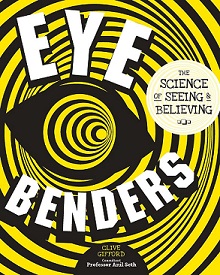 Clive writes: "Optical illusions always fascinate but I wanted to do something more than just depict a large collection of varied illusions, I wanted to get across how and why they succeeded. Working with celebrated Professor of neuroscience, Dr Anil Seth, the aim was to explain how different types of optical illusions operate and how some exploit the body's physiology whilst others work on the brain, memory and perceptions. The end result, we hope, is a fascinating collection of eye-benders."


"This is very much a book where children will learn a great deal without ever realising they are learning. The entire family enjoyed it, and every one voted this five stars out of five. It isn't often when we all agree so completely on anything."– Margaret Young, the Book Bag.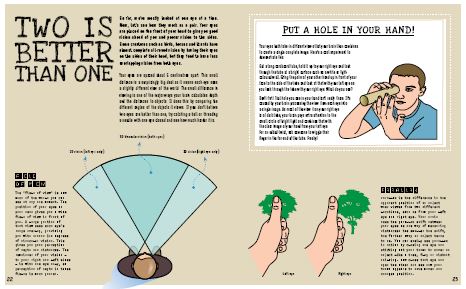 Download a double page on binocular vision and dominant eyes.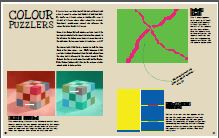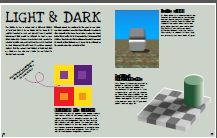 Enjoy three double pages on amazing light, colour and perception illusions.
---
Space In 30 Seconds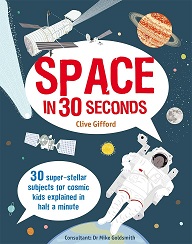 Space In 30 Seconds It was great to hook up with a good friend of mine, Dr Mike Goldsmith to head into space and tackle the Universe in bite-sized topics. Each page in Space In 30 Seconds (Ivy Press) starts off by giving a brief summary of the subject we're looking at – the sort of thing that can be read in around half a minute or so. Then, we delve a little deeper into the subject, be it stars and how they form, space exploration, comets or telescopes, with fun illustrations helping the reader out and fun projects listed for them to try out away from the book.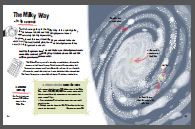 Check out a double page on the Milky Way.
---
Outside In: Human Body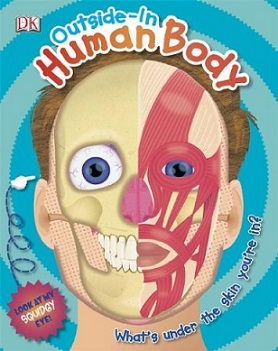 Clive writes: "I love it when a book engages a reader through interactive learning and this cracker of a cut out book from Dorling Kindersley features a human body readers can literally explore, right down to poking a squishy eyeball. Urgh! Turning the pages reveals layer after layer, the body's different structures, systems and organs which are carefully and concisely described and explained."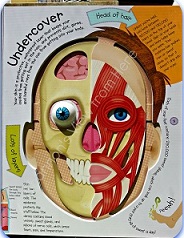 "I have brought this book for all various ages 5 times just this year- every child I give it to, thinks it's the best book ever- educational yet fun!! Defo recommend!" - Ruth Nash, Amazon.co.uk

---
Out Of This World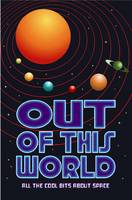 A fact-packed guide to the Universe and the objects it contains, Out Of This World is a chapter book with an emphasis on clear, entertaining text which tackles some of the big issues in space, from star formation to the Universe's scale, development and fate.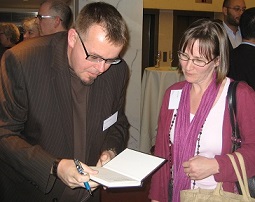 It was nominated for the 2012 Royal Society Young People's Book Prize, an event I was delighted to attend along with fellow nominees, Richard Platt and Richard Dawkins, where we signed copies of our books, and each received shortlist awards for our books from Royal Society chairman and Nobel Prize winner, Sir Paul Nurse.

"This is so different to other astronomy books we've seen – it's a fast-paced, funny and fact-packed guide to the very coolest bits of astronomical science. Older readers will love dazzling their friends with the out of this world facts that they read in this book." - The Royal Society
---
Explore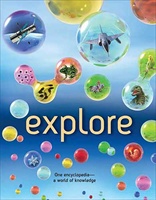 "The Universe in a book" was how Explore was first described to me. It was to cover all aspects of science and society in one single volume packed with eyecatching images and design. Months later, myself, Dr Mike Goldsmith and Sean Callery completed its 320 pages, assisted by the formidable and brilliant Miranda Smith as editor. We hope you find it useful and entertaining.



Take a look at an Explore entry on Deserts.

---
Stormchaser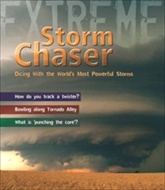 Part of A&C Black's Extreme Science series, Stormchaser takes the reader right inside a chase vehicle tracking down fearsome giant tornadoes and looking to punch their cores. Arresting design and close-up photography help explain the complexities of storm formations, their movements and devastating power.
---
Robots (Carlton)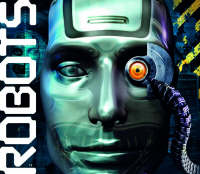 Published by Carlton, Robots is an exciting and thorough look at the world of robots and enhanced humans (cyborgs) now and in the future. A 16 page constructor's manual gives advice on what you might need for your own robotics experiments whilst there's fun to be had in lifting flaps, pulling tabs and discovering how robots are built, programmed and operate in a wide range of environments from toxic waste dumps to inside the human body.

Download sample pages on
robots that spy
here using Adobe Reader.
---
Red Hot Bikes (Hodder Wayland)

Aimed at the motorcycle-mad boy or girl, this book takes a highly-visual look at the workings, features and performance of six of Honda's leading motorcycles from motocross trail bikes to the iconic Honda Goldwing. Designed and written particularly with the more reluctant reader in mind, the text is short, punchy and packed with facts. The technology involved is explained clearly and concisely and technical terms are defined on each page.
---
Planet Under Pressure (Heinemann)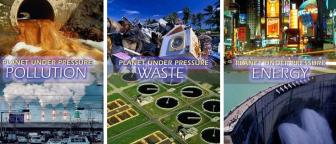 Earth and its resources are struggling to meet the demands of its booming human population. What can we do about it? These three books examine the controversies and issues and present balanced arguments for both the problems the planet faces and different solutions proposed, from major global treaties to neighbourhood initiatives. Here are some short facts from the books:


* In the UK each person throws away seven times their own bodyweight in waste per year .
* A quarter of all household waste is packaging.
* The energy saved by recycling one glass bottle will power a computer for 25 minutes.
* If every household installed two energy efficient light bulbs, enough energy would be saved to supply all the street lighting in the UK.
* Every 3 mile/5km car journey avoided prevents around 2kg of carbon dioxide being sent into the atmosphere.
---
Kingfisher Young Knowledge: Materials, Robots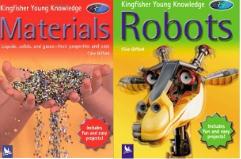 Clear, concise guides for enquiring young minds. From why are materials stretchy to what is the biggest robot, these books answer key questions in language readers can understand.


KFYK: Robots receives Best Books of 2004 award from the Science Books & Films (SB&F) journal, published by the American Association for the Advancement of Science.
---
Food Technology - Chrysalis Books

Do you know what is in your food and how and why it is processed, prepared and packaged? This illuminating and, at times, surprising, book lifts the lid on the food technology industry. It examines in detail both sides of arguments regarding controversial and current topics such as additives, allergies, over-packaging, fair trade and food sourcing.
---
How To Meet Aliens - Oxford University Press

Clive writes: "These are fun books which explore serious subjects using cartoons, experiments and a light, humorous text tone. They are published by Franklin Watts in the US and have also been translated into Spanish, Korean and Turkish."

"Clive Gifford keeps his feet firmly on the ground in this entertaining voyage in search of extra-terrestrials. Both sides of the argument are clearly told, and it's up to the reader to decide for themselves what they think." - John Malam, Manchester Evening News

Chosen for The Independent's 10 Best Back To School Books.
---
The Living Worlds - Kingfisher Publications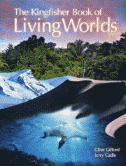 Awarded Smithsonian Museum's Notable Books For Children

The Living Worlds is a thorough investigation of the natural cycles and interactions between millions of lifeforms that help shape and create the world in which we live. This book delves into aspects of biology, marine chemistry, ecology and geography to explain and illustrate the varied forms in which adaptions, evolution and dependency between different species and habitat has generated great biodiversity.
"A rollercoaster ride through the natural sciences to concisely explain life on Earth and the challenges it faces." Online Review

---
Real Robots - Eaglemoss Publications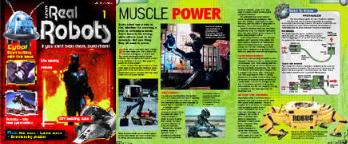 Clive Writes: "From the very first issue to the 94th, I researched and wrote over 100 full-length features on all aspects of robotics from the science of biometrics and how distance sensors work to entertainment and spy robots working in the real world. To see the Real Robots website, head to Real Robots.
---
Technology All Around Us - Franklin Watts

High-interest reads examine a key area of technology and use looking back and forward panels to explore landmark moments in the past and make predictions for the near future.

Other titles in the series include:
* Robots * Aircraft * Computers * Telecommunications * Medicine *
---
The Kingfisher Science Encyclopedia

Clive writes: "It was a great honour to be chosen to research and write three of the ten sections of this large, comprehensive science encyclopedia."

"Stunning scientific artwork combine with clear, concise and informative text written by specialists - the perfect book for enquiring minds." Books Magazine

"An important new encyclopedia" The Bookseller
---
ARCHIVE: Eyewitness Media and Inside Robots (DK)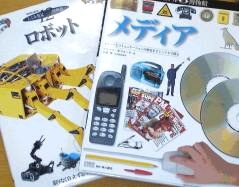 Clive writes: "In the late 1990s, I was approached to write a pair of constrasting Dorling Kindersley (DK) books on two of the hottest topics around - Media technology and Robotics. The books allowed me to travel and meet many fascinating people at research centres in the UK, Europe and Japan. From watching Robug III (pictured) climb a vertical wall to exploring the latest in satellite communications, these were extremely rewarding titles to work on."
---