KIDS

This is Virtual Giffy.
Iím afraid we cannot
stop him from popping
up with the odd
really terrible joke.
Donít laugh. Youíll
only encourage him.

Clive at age five.
Ah bless, but donít
be fooled. The very
day after this sweet
picture was taken,
Clive put three
spiders inside Jenny
Richardsí schoolbag!
These are Cliveís special pages for kids. To learn a little about my visits to schools and groups all over the world, click Clive Live. To ask him a question and view answers to those already asked, go to FAQQ. To learn more about Cliveís cat, Reg, click Reg Writes and to try out a few questions from Cliveís quiz books, click Quiz Whizz. Finally, for all sorts of odd stuff Ė from strange numbers about Cliveís career to web links for great, fun and handy websites, click Fun Facts.

"Hi there, Iím Clive but my friends know me as Giffy. As nicknames go, it could be far worse. I could be called Goggles because of my glasses or Whiffy (but only just after playing sport) or Gobby due to my habit of talking all the time. But, Giffy it is.

I didnít plan to be a writer. In fact, I had real trouble with English and was bottom of my class at junior school. I liked reading but my handwriting was DREADFUL and I couldnít make sense of commas and colons. I began to give up. But a WONDERFUL teacher called Mrs Robertson turned me round and showed me how fun it was to write.

One day, Iíll tell the full story of how we were caught jumping on the school desks by the headmaster, Mr Cull. Until then, hope you enjoy these pages."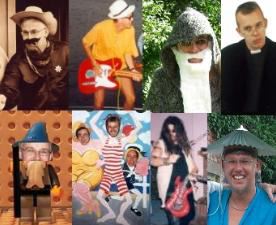 The 8 Faces of Giffy: Sheriff Giffy, Guitar Giffy,
Hermit Giffy, the Rev. Giffy, Giffy Baggins,
Puny Giffy, Rockiní Giffy and Ninja Giffy