QUIZZ WHIZZ
Hello There Quiz Fans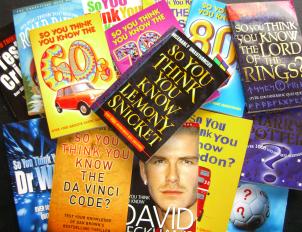 Welcome to the webpage that deals with Clive's quiz-writing exploits.

He has written 23 quiz books on lots and lots of different subjects from London to Lord of the Rings. His series of So You Think You Know (SYTYK) quiz books for Hodder Children's Books have included David Beckham, The Simpsons, life in the 1970s, The Premier League, J.K. Rowling's Harry Potter, Lord Of The Rings and the books of Roald Dahl.

In fact, Clive has written quizzes on everything
from Lemony Snicket to Test Match Cricket!

Below are some sample quiz questions from the books and exclusive added questions as well. Scroll down to the bottom of the page for the answers, but don't cheat!
---
Dinosaur Record Busters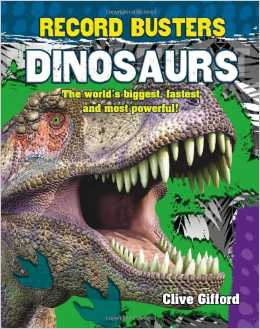 What's the biggest dinosaur?

I get asked this question quite a lot. The answer isn't straightforward. Do you mean tallest, longest or heaviest? And what about the fiercest creature and the one with the longest neck? Well, the answers to all of these questions are now contained in a fun new book published by Wayland and called Dinosaur Record Busters out now!

Here's a puzzler from the book for you...

Which dinosaur's tail was 14m long and may have been cracked like a whip to create an ear-splittingly loud sound: Diplodocus, Torosaurus or Spinosaurus?
---
The name's Bond...James Bond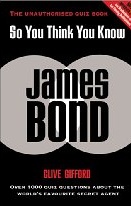 Clive had square eyes after watching every Bond movie over and over again to write the 1,000 plus questions in this book. Some sample questions will appear here shortly...promise!

"No self-respecting James Bond nut should be without it." – Carousel.
---
Dr Who Second Edition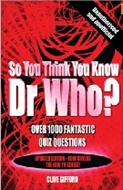 The new Dr Who series are terrific fun and here are eight questions from the hundreds found in So You Think You Know Dr Who. See how well you do.

1. What former companion of the Doctor's is found in the boot of Sarah Jane's car in the episode, School Reunion?
2. Which man kisses Rose and then the Doctor in The Parting of the Ways?
3. Which famous writer in The Unquiet Dead accompanies the Doctor and Rose to the TARDIS?
4. What is the first name of Rose's mother?
5. In the Love and Monsters episode, which famous comedian plays an alien?
6. Is Elton Pop's favourite band, U2, ELO, the Foo Fighters or Busted?
7. In Bad Wolf, what is the name of the robot host of The Weakest Link?
8. In The Satan's Pit, who failed to make it past junction 8.1 and died due to loss of air?

---
Simpsons Quiz 2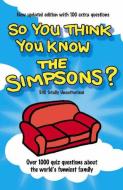 The 2nd Edition of SYTYK The Simpsons is out and to celebrate its recent five star review, here are five questions from recent series found in the book.

1. Who turns into a half cow that Homer has to milk?
2. What is the name of the newspaper Lisa published in Fraudcast News?
3. Who is Springfield superhero, Pie Man?
4. In The Seven Beer Snitch which rival town mocks Springfield?
5. In Future-Drama, who is dating Marge eight years in the future?
---
World Cup 2010 First Half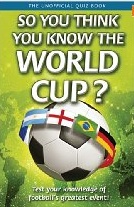 The World Cup is football's greatest event and all eyes are on South Africa and the 2010 competition. Here is the first half of a fabulous World Cup quiz created using So You Think You Know The World Cup. Out Now!

1. Against which UK side did a 17 year old Pele score his first World Cup Finals goal?
2. Which referee booked Josip Simunic THREE times in the same match?
3. At which World Cup were substitutes used for the first time?
4. How many World Cups have been won by a team ending with the letter, Y?
5. Against which team did Hakan Sükür score the fastest ever World Cup Finals goal?
6. Which England manager played for England in the 1950 World Cup?

Check Out further World Cup quizzes below!
---
So You Think You Know Manchester United?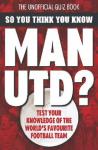 As Manchester United stroll to another Premier League title, see if you can answer the following questions, all taken from So You Think You Know Man Utd? published by Hodder.

1. Manchester United let in the Premier League's first ever goal: true or false?
2. Who cost Manchester United more: Rio Ferdinand, Wayne Rooney or Louis Saha?
3. Which United player scored the goal that resulted in Chelsea's first loss in the 2005/06 Premier League?
4. Which central defender scored an incredible 19 goals in the 1990/91 season?
5. Which defender scored two goals as United qualified for the 2005/06 Champions League 6-0 on aggregate?
6. Ji-Sung Park was bought by United from which European club?
7. Which former James Bond star was offered a trial with United in the 1950s?
8. Dave Sexton replaced Tommy Docherty as manager at two other clubs besides Manchester United. Can you name them?

---
So You Think You Know Harry Potter?

This was the first So You Think You Know quiz book I wrote. It is packed with questions about the first four Harry Potter books. Here are 10 questions, all about Book 4: Harry Potter and the Goblet of Fire. They go from easy to hard so good luck in answering them.

1. Who was the champion for Beauxbatons school?
2. Did the police and doctors believe that the Riddles were shot, poisoned or frightened to death?
3. Whose picture hung from the tents of the Bulgarian Quidditch supporters?
4. What creature did the fake wand that Fred and George showed Ludo Bagman turn into?
5. Rita Skeeter is a reporter on which wizarding newspaper?
6. Who represents Mr Crouch at the Yule Ball?
7. On what date was the third task of the Triwizard Tournament to be performed, the 21st, 22nd 24th or 27th?
8. Whose sweets does Dudley Dursley eat, gaining a massive tongue as a result?
9. Who sent Sirius Black to Azkaban without a trial?
10. What is the two word name of the killing curse?

---
World Cup Quiz Second Half

1. Of their first 15 World Cup finals games, how many did England win?
2. Which European country scored 5 goals in a 1954 World Cup game yet still lost the match?
3. How many World Cups have featured a lion as a mascot?
4. At the 1982 World Cup, a Prince from which country rushed onto the pitch to convince the referee to disallow a goal?
5. Which was the only CONCACAF team to be seeded for the 2006 World Cup?
6. When was the last time England beat Sweden in a competitive match?

Keep A Look Out For An Extra Time Quiz!
---
So You Think You Know David Beckham?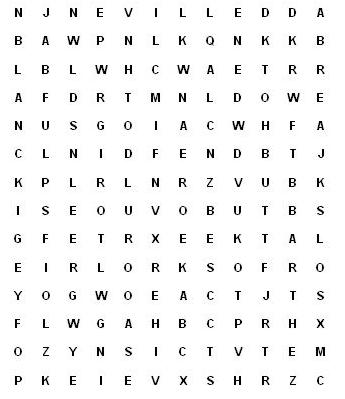 Reckon you know all about David Beckham especially when he played for Manchester United? Well, contained in this Wordsearch puzzle are 14 former Man. Utd team-mates of Beckham's. They can be spelt out horizontally, vertically and diagonally. See if you can get them all.
---
The Simpsons Quiz 1
Here is a mini quiz on the world's favourite funny cartoon family.

1. What is the name of the road where the Simpsons family live?
2. Who phones Moe's Tavern asking if B.O. Problem is there?
3. What is the name of the Simpson's family doctor?
4. From what country does Apu originally come from?

And a real toughie to finish on…
5. When Moe turns his bar into a restaurant
what does he call it?
---
World Cup Quiz Extra Time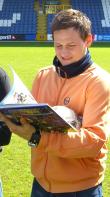 1. Which UK side sensationally beat the hosts, Spain, at the 1982 World Cup?
2. In which country will the next Women's World Cup be?
3. Who are the only team to have been beaten by both North Korea and South Korea at World Cup finals?
4. Who was the only team England beat in their 2002 World Cup group?
5. How many games ended in penalty shootouts at the 1998 World Cup?
6. Who is the only substitute to score a World Cup hat-trick?
---
Terry Pratchett's Discworld

Here's a short quiz, from easy to hard, to celebrate the arrival of Clive's latest quiz book all about the amazing and amusing Discworld and its characters.

1.How many giant elephants does the Discworld rest on?
2. Which type of young animal does Death have a fondness for?
3. What is the name of Death's horse?
4. In Monstrous Regiment, what turned out to be the first name of General Froc?
5. Black Oroogu, Sumtri or Vanglemesht is a language with no nouns and only one adjective?
6. In which book would you find the Electric Drill Chuck Fairy?
7. In Pyramids, what is the ancient salute of the assassins?
8. Which demon was too old to go on a Club 18-30,000 holiday?
---
Answers: Manchester United
1. True
2. Rio Ferdinand
3. Darren Fletcher
4. Steve Bruce
5. Gabriel Heinze
6. PSV Eindhoven
7. Sean Connery
8. Queens Park Rangers and Chelsea
---
Discworld Answers
1. Four
2. Kittens
3. Binky
4. Mildred
5. Black Oroogu
6. Hogfather
7. A thumb pressed up against the first two fingers
8. Urglefloggah
---
Answers: Dr Who quiz
1. K9 2. Captain Jack Harkness
3. Charles Dickens
4. Jackie
5. Peter Kay
6. ELO
7. Anne Droid
8. Jefferson
---
Answers: World Cup Quiz First Half
1. Wales
2. Graham Poll
3. The 1970 World Cup
4. Nine inc. Italy in 2006
5. South Korea
6. Sir Alf Ramsey
---
Answers: The Simpsons Quiz 1

1. Evergreen Terrace
2. Bart
3. Dr Hibbert
4. India
5. Uncle Moe's Family Feedbag
---
Harry Potter Quiz Answers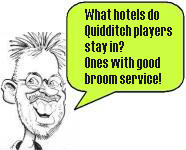 1. Fleur Delacour
2. Frightened to death
3. Viktor Krum
4. A chicken
5. The Daily Prophet
6. Percy Weasley
7. The 24th
8. Fred Weasley's
9. Mr Crouch
10. Avada Kedavra

---
Answers: World Cup Quiz Second Half
1. Three
2. Switzerland
3. Two (1966 and 2006)
4. Kuwait
5. Mexico
6. 1968
---
Answers: Simpsons Quiz 2
1. Ned Flanders
2. The Red Dress Press
3. Homer
4. Shelbyville
5. Krusty the Clown
---
So You Think You Know David Beckham - Answers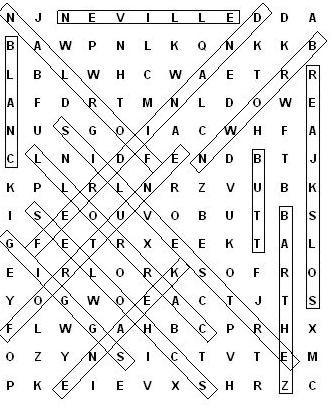 Reckon you got all fourteen, eh?

They were: Solksjaer, Keane, Barthez, Giggs, Scholes, Carroll, Fortune, Brown, Ferdinand, Blanc, Butt, Forlan, Silvestre and Neville.
Actually, with Phil and Gary, you could say it was fifteen players.
---
Answers: World Cup Quiz Extra Time
1. Northern Ireland
2. Germany
3. Italy
4. Argentina
5. Three
6. Laszlo Kiss
---