FOOTBALL
Quotes and Stories
Did they really say that?

Some silly quotes from ex-England players.
"I can see the carrot at the end of the tunnel." - Stuart Pearce
"I was surprised, but I always say nothing surprises me in football." - Les Ferdinand
"The 33 or 34-year-olds will be 36 or 37 by the time the next World Cup comes around, if they're not careful." – Kevin Keegan
"I don't make predictions. I never have done and I never will do." – Ian Wright
Injuries and Referees
What have whistles, aftershave, ironing boards and golf clubs got to do with football? Read on and find out.
American goalkeeper Kasey Keller needed an unscheduled trip to the dentist in 1998 after knocking out his front teeth while pulling his golf bag from the boot of his car.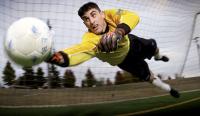 Danish keeper, Michael Stensgaard, was a member of the Liverpool squad when he suffered a freak injury. He dislocated his shoulder whilst putting up an ironing board!
What is it about goalkeepers and strange injuries? Spanish goalkeeper Santiago Canizares was expected to be Spain's keeper at the 2002 World Cup until he dropped a bottle of aftershave on his foot, injured himself and was out of the side.
The Acme Thunderer in its various forms is the referee's whistle of choice. Made in Birmingham for a century by Joseph Hudson & Co, over 161 million have been sold.
In a non-league match in Manchester, England between St Cass and Pinewood, the referee forgot to bring his whistle and ended up using a mouth organ/harmonica instead!
And speaking of refs, have you heard about English referee, Martin Sylvester who sent himself off after he had lost his temper and punched a player in an Andover and District Sunday League match in 1998!
World Cup Records Amazing and Amusing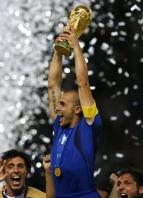 Most Goals In World Cup Finals - 15 Ronaldo (Brazil) Romania's King Carol in 1930 remains the only King to have chosen a country's World Cup squad! Fastest goal by substitute - 16 seconds - Ebbe Sand for Denmark in 1998. India pulled out of the 1950 World Cup because their team were not allowed to play in bare feet! Only team to appear in all World Cup Finals - Brazil (17 appearances, 10 semi-finals or better)
Five Wondrous World Cup Facts
In all 17 World Cup Finals up to 2006, there have been just 24 own goals. In one single match played in the Madagascan league in 2002, there were an astounding 149!

Brazil have the best playing record at all the World Cups, winning an astonishing 60 of their 87 matches played and hoisting the World Cup aloft 5 times.
The fastest goal in a World Cup Finals match was scored by Turkey's Hakan Sükür after only 11 seconds against South Korea in 2002.
The latest goal was scored by David Platt of England, in their second round match against Belgium in 1990 after 119 minutes.
Brazilian striker, Ronaldo won the golden boot for scoring most goals at the last World Cup, banging in 8 strikes in total. But did you know that in 1995 his then wife, Milena Domingues, broke the world record holder for keepy uppy - keeping a football up in the air? Guess how long? 9 hours 6 minutes!
Check out the
Quiz Whizz
section for World Cup Quizzes.
The Greatest Ever Footballer
Pele was simply the best ever player to grace the World Cup. Why is there so much fuss about him? Well, those who saw him play go all misty-eyed and recall his amazing skills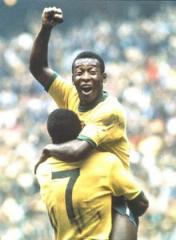 and vision but the facts tell you a lot. He remains the youngest player to score a goal at the World Cup finals, is the only player to have won the World Cup three times as a player and in his career for Brazil and clubs, mainly Santos, scored a whopping 1,283 goals. Here are some quotes about and from the great man.
"Everything is practice."
Pele
"Pele is to Brazilian football what Shakespeare is to English literature."
Joao Saldanha, ex-manager of Brazil.
"Scoring 1,000 goals like Pele is not that difficult, but scoring one goal like Pele is."
Carlos Drummond de Andrade, poet.
"If Pele hadn't been born a man, he would have been born a ball. "
Armando Nogueira, journalist
"The more difficult a victory is, the more happiness in winning."
Pele
"A Simple Game…Really "
"Football is a simple game based on the giving and taking of passes, of controlling the ball and of making yourself available to receive a pass."
Bill Shankly, legendary Liverpool manager
"Simple play is also the most beautiful. How often do you see a pass of 40 meters when 20 meters is enough? Or a one-two in the penalty area when there are seven people around you and a simple wide pass around the seven would be a solution?"
Johann Cruyff
"If you're in the penalty area and don't know what to do with the ball, put it in the net and we'll discuss the options later."
Bob Paisley
"Football is a simple game. It's just the players who make it complicated."
Gordon Strachan
Oldies And Goldies
Mexico's Enrique Alcocer (b. August 28, 1924) is currently the world's oldest regular football player. He plays for the Reforma Athletic Club in Mexico City, Mexico. Alcocer began playing regularly in 1936 for the Grosso Junior and High School in Mexico City, he then played professionally for the Marte Football Club in 1944 in Mexico's first division, before joining his current club in 1952.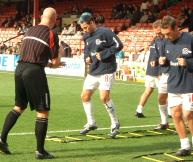 In November 2004, a 50 year old former World Cup winner, Socrates turned out to play for English non-league side, Garforth Town in the Northern Counties League.
The oldest player ever to appear in a World Cup qualifying match was Taylor MacDonald of the US Virgin Islands who was 46 years & 180 days old when he played against St. Kitts & Nevis in 2004.
Sage Words From Soccer's Supremos
"Playing fair makes football much more fun, and it makes winning all the more satisfying."
Sepp Blatter, General Secretary of FIFA.
"Strikers win you games, but defenders win you championships."
John Gregory.
"I've told the players we need to win so that I can have the cash to buy some new ones."
Chris Turner, Peterborough manager, 1992.
"It's a great job during the week. But sometimes the Saturday spoils it."
Mike Walsh.
"I have told my players never to believe what I say about them in the papers."
Graham Taylor.
Penalties And Shootouts
England's loss to Portugal on penalties at Euro 2004 was their fourth in five penalty shootouts in World Cups and European Championships. To make matters worse, the winning goal was scored by the Portuguese keeper, Ricardo.
Walter Scott of Grimsby Town was the first goalkeeper to save three penalties in a single game; he performed this heroic feat in 1909 against Burnley.
There are three ways you cannot score from a penalty other than the ref disallowing the goal. You can miss the target, the keeper can save it or you can hit the posts or crossbar. Martin Palermo of Argentina managed a full house as he missed three penalties in a single game against Paraguay in 1999. The first hit the bar, the second missed and the third was saved!
The record number of penalties required to settle a shootout is a whopping 48! KK Palace finally prevailed over V Civics, 17-16 in the 2005 Namibian Cup.
Foot In Mouth
"Plenty of goals in Divisions 3 & 4 today. Darlington nil, Hereford nil."
BBC Radio 2.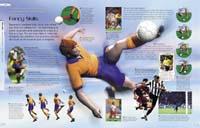 "Anything from 1-0 to 2-0 would be a nice result."
Bobby Robson.
"I'll never play at Wembley again, unless I play at Wembley again."
Kevin Keegan.
"Ian Rush, deadly ten times out of ten, but that wasn't one of them."
Commentator, Peter Jones.