FAQ's
Frequently Asked Queries and Questions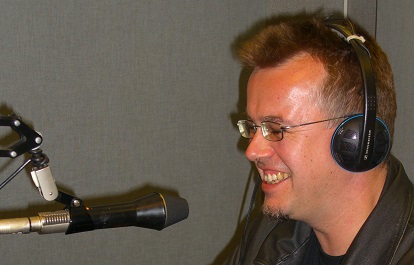 Want to know how an author works or what his likes and dislikes are? Fancy finding out how to improve your own stories and reports or perhaps you are intrigued by the wonderful and occasionally weird world of writing and books. If there's anything you want to know - just ask Clive. He promises to do his best to answer. And if he can't, he's pretty sure Reg will be able to help him.

Send your questions and queries to Clive at:Ask-The-Author.

He's sorry but he cannot give away free books and answers can only appear here on his website.
---
Deep Space Water Bears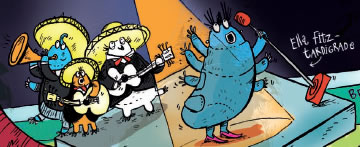 "What's the most amazing animal you've ever learned about?" Paul Beckton, Solihull, UK.

Good question, Paul. I think the most amazing of all is the tardigrade (also known as the water bear). It can live without water for more than a year, survive boiling hot and incredibly cold temperatures that would kill other living things and has even travelled into space without a spacesuit and survived.
---
What's the grossest thing you've learnt?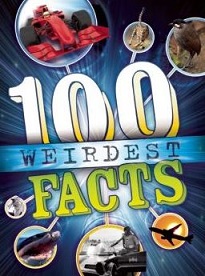 That's a toughie! I've learnt some downright odd things in trying to dig out less well-known facts to amuse and amaze people. For example, did you know that butterflies drink their own pee? Or how about your nose producing a cup full of mucus every day? There's plenty more odd, gross and weird information in this book by QED I wrote.
---
Promotion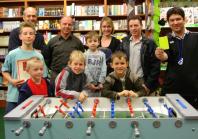 "Do you promote your books or do you leave that to your publisher?" – K.V. Benson, Boston, USA.

I like to get involved in promotion when I can and make appearances or produce publicity material to help get a book off the ground. Sometimes, of course, it's not always possible. I sadly missed out on a table football competition run by Oxford University Press to promote Fantastic Football. Shame, as it looked lots of fun.
---
Work in progress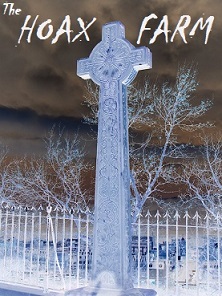 "What books are your working on now? – Brendan Phillips, Yorkshire.

I'm hoping this is going to be an exciting year, Brendan. I am working on the follow up to Dead or Alive as well as a couple of new science books and, in addition, am plotting out a couple of new stories, a young one about a penguin that feels the cold and a longer, darker thriller for older children about a place called The Hoax Farm where truth merges with fiction in a chilling fashion. There's lots of work to be done before it is complete and I'm tying to decide lots of the twists and turns of the plot at the moment. I'll tell you more when they're all solved.
---
Next Birthday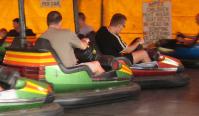 "What are you going to do next birthday?" – BeeZee, London

Not sure, BeeZee, but wouldn't mind a repeat of what myself and my friends managed to do on holiday last August. At a local fair which was very quiet, we hired a whole dodgems rink for an hour. Smashing fun!
---
Extravagance
"What is your greatest extravagance?"
– Peter, Basingstoke
Books. No question, Peter. Every project I work on needs lots of books to research the subject and gives me the excuse to go to the bookshop and spend, spend, spend! I haven't counted them but I reckon I've got over 6,000 books all littered round my house!
---
Funny stuff

"Your book on the Simpsons rocks! I want to know if you have ever written funny things like the Simpsons?" - Tim C. Long Island

Hi Tim, thanks for your kind words. I've never written a TV series or anything as funny as the Simpsons but I am working on a really ridiculous story which is making me smile, at least. It has lots of strange characters including Boing - a space hopper that thinks it's a gangsta rapper. Will tell you more soon.
---
Birthday

"What did you do on your last birthday?" - Jasmine, Fife, Scotland.

I took the day off work, Jasmine, opened my presents and then did some sightseeing around Manchester. I walked into town along the canal path, went on the big wheel which gave great views of the city and visited an art gallery I haven't been to before.
---
Website

"Can you tell me who built your website?" - Lance Freeman, W12.

Sure. My website was built by a London-based company, Red Ink Creative. They were very helpful. To visit their site click here.
---
How old?

"Dear Clive, I like your books. I have the Water Puppets, and 5 of your quiz books. How old are you?" - Becky Constance, Kettering, UK.

Hi Becky, I am 48 years old. Mind you, I feel a lot younger. Actually, a lot of my friends think I act about seven at times. Take care, Clive
---
Shopping?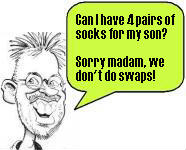 "Do you still buy books at shops or do you get all your facts off the internet?" Greg Davy, Newark, NJ.
Hi Greg, The internet is only useful for some things and facts really need to be checked in books, journals and magazines. I still use bookshops all the time. We have a great one in Sharston which houses over 3/4 million old books.
---
Favourite Book
"Dear Clive, what is your favourite children's fiction book ever?"
- Paulo Francs, New Jersey
My favourite fiction book is Skellig by David Almond - a beautiful story by a brilliant writer. I've always liked Morris Gleitzman's books as well.
---
Pets?

"Do you have any pets, Mr Gifford?"
Ralf Schimmer, Aarhus, Germany. Aged: 13

Hi Ralf, do call me Clive. Yes, I have a pet and he's very special. He's a dark tabby called Reg who's deaf and scared of birds! He hangs around with me when I write and once actually deleted a file as he climbed over my keyboard.

He's so special a cat that he's got his own pages on this website. Head to Reg Writes to learn more about him.
---
Other job
"What would you like to be if you weren't a writer?"
- Jacko, Townsville, QLD.
G'day Jacko, it's a good question. I really would have liked to have been a rock star but was lousy at playing the guitar. The other job I would have liked was to be a documentary film-maker.
---
Olympics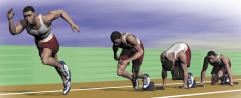 "I loved your book on the Olympics. Will you be going to the Olympics in London and will you be doing a new book for them?" - Carrie Johnstone, Sheffield

Hi, Carrie. The short answer is You Betcha! I think the London Olympics is great for the UK. And yes, I hope to write a whole new guide to the Olympics straight after the Beijing Games.

For more information on the Olympics, head to my Olympics pages or to the IOC Official Website.
---
Location, Location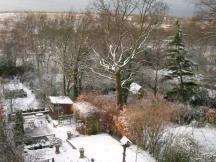 "Where do you live?" - Cali, Bradford, UK.

Hi Cali, I live in a large three-storey tumbledown house on the very edge of Manchester. It's pretty old - I think it was built in 1906 - and there always seems to be bits of it falling off! It overlooks the Mersey Valley and I can cycle through countryside and canal paths to get to the centre of Manchester.
---
Carry Out
"What do you carry with you when you travel for your writing?"
- Harry, Auckland, NZ.
Good question, Harry. Three things: a small notebook and pen to jot down any ideas, a digital camera to record anything I see of interest and an MP3 player to record interviews on. Oh, and it's great to play music on as well!
---