WHY CLIVE
My career and its many strands seem perfectly natural to me. However, I know it provokes raised eyebrows amongst others, hence this section. If there is anything you would like to ask, please contact me at clivegiff@aol.com.
Clive Working with Russell Mclean,
Children's Publisher at Carlton Publishing.
Why donít you specialise?
Oh, but I do. I specialise in writing engaging, quality-driven material and finding new ways to convey crucial information in accessible and entertaining ways. These are specific abilities and qualities which apply to a range of age and expertise levels and to fiction as well as non-fiction.
Surely, it must be a disadvantage to write on many different topics?
Quite the opposite. Firstly, there is invaluable crossover in information and writing techniques when working on different subjects for different audiences. Secondly, there's the rise of multi-topic disciplines such as citizenship, media studies and certain global issues as well as an increasingly multidisciplinary approach to many traditional subjects. I would argue that a writer not conversant in a number of subjects is increasingly at a disadvantage. For more on this read a short excerpt from a lecture I gave university students in spring, 2005.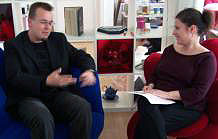 A meeting with Koanís Jo Hamou
to create a schoolsí outreach project
on sustainability and the environment.
But we only use experts to write our non-fiction books?
Apologies for the curt tone, but experts in what precisely? Experts immersed in one topic who may struggle to summon the motivation, freshness or lack of assumptions vital for an accessible treatment. Alternatively, you can choose an expert in communication who knows how to tease out the most vital messages and reach your target age and knowledge level. I would argue that a 5-7 year old book on science, for example, rarely needs the input of a Nobel Prize-winner but always needs the input of a good quality writer.
Why havenít we heard of you?
With so little media space devoted to non-fiction authors, it can be hard to make your case. Iím not in London and donít have an agent. I havenít felt the need for one as Iíve been in near full employment since turning freelance eight years ago. Those who have commissioned me have tended to repeat the process, a fact I find extremely gratifying. The only downside is that it has not helped make marketing myself a priority. Of course, I would like to be better known and thatís a key reason for this website.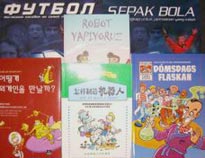 Cliveís books translated into Russian,
Turkish, Indonesian, Korean,
Chinese and Icelandic.
How can you work in fiction and non-fiction?
Easily. I enjoy both arenas immensely and believe that skills picked up in one are a positive benefit in the other. Experience in fiction has definitely improved my non-fiction. Behind almost any factual subject lies a good story and to write that tale well requires excellent storytelling skills. Conversely, non-fiction writing has improved my ability to ground fiction in plausible ways, to explain complexities clearly and to grab and hold the attention of readers by sometimes applying techniques used to produce arresting journalism or non-fiction for reluctant teen readers.
Do you work via being commissioned or do you present your own ideas?
A short answer for a change, both. I also do a lot of fire-fighting work, coming in on a project which has stalled or hit difficulties to help out and get it completed on time and with quality in mind.
But we need someone successful?
Of course, but what do you mean exactly by successful? If you mean, sales, I can point to a clutch of my books which have sold in excess of 100,000 and one that is edging half a million. If you mean critical acclaim, I have garnered a good many glowing reviews and won a fair few awards. If you mean someone famous, a celebrity, youíve got me hands down. I canít help you.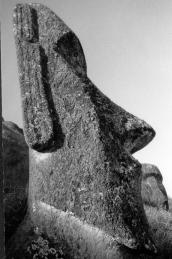 A Moai statue on Easter Island.
Would a heavily visual project be a problem?
Honestly, no. I am a keen photographer, have substantial picture research experience, work well with designers and believe I possess a good visual feel for projects.
But youíre in Manchester and weíre in the south of England?
I've had broadband for years, can send and receive PDFs and other files and can get from Manchester to central London in 2 hours 6 mins, thanks to Virginís high-speed rail link. I am more than happy to visit for meetings.
Why should we use you?
Because Iím a very good writer! But here are some further reasons:
By working on different topics and in different genres and formats, I have built up formidable experience yet am as highly enthusiastic as I was at the start of my career.
Having worked in-house as a Senior Editor, I understand many of the demands and constraints of editorial, production and sales departments and strive to create smoothly-running projects.
I am approachable, friendly, amenable to discussions and changes and committed to producing high quality work.
I keep in contact with a wide range of educationalists, teachers, booksellers, librarians and, of course, children. These contacts help enable me to produce focused new ideas with great potential.
---
Excerpt From Lecture- The Role Of The Non-Fiction Writer
...A non-fiction writer who isnít conversant with a number of subjects is now at a serious disadvantage.We are witnessing major changes in the range of subjects and what traditional subjects now consist of. For example, there is increasing crossover and overlap in many topics from emphasis on biology and personal health in sports and leisure topics to the encroachment of new technology on so many subjects from art and design to archaeology. New areas of study and interest for young readers have emerged such as citizenship and sustainability which are inherently multi-stranded, taking in hard science, human and physical geography, politics, history, sociology and other subjects. Meanwhile, there is an increasing blurring of the demarcation lines between traditional subjects.
Simply put, to write really well, you need an increasingly broad knowledge. Such knowledge enables you to interpret, prioritise and understand elements of the topic you are writing about and to place them in context.
Let me give you an example. Last year I was commissioned by Kingfisher Publications to writer an in-depth book on espionage for the 9+ age level. To produce such a book, you need not only a thorough knowledge of espionage but of modern world history and of 20th and 21st Century politics to explain fundamental background from the Cold War to the rise of terrorism. Thatís not all. You need an understanding of earlier history to paint a convincing picture of the court intrigues surrounding Elizabeth I or the Medicis, as well as a need to go back further to the machinations of the Ancient Roman empire to understand how the need for intelligence has ancient roots. You need to be fully-conversant with vast amounts of science and technology to explain espionage techniques and equipment from the principles behind infra-red and thermal imaging to biometrics, spy satellites and electronic filtering of email and web content.
On top of that, one needs to be a capable biographer to convey the key personalities and the times in which they worked and operated in. These areas of knowledge would be enough to produce a factual, but dry account of spying throughout the ages, but it takes something more. I believe that one also needs more than a touch of creative flair to set the scene before describing the details of a mail drop, a surveillance mission or spy swap.
It all adds up to a seemingly impossibly daunting task set before you, but one finds that the longer one writes in different subject areas, the more the links and patterns emerge, the more the key facts, reference sources and contexts make themselves clear....