FOOTBALL
THE KINGFISHER MOTORSPORTS ENCYCLOPEDIA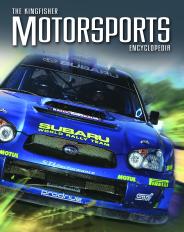 Imagine racing along city roads for a distance of 40km, backwards in reverse gear, the only you have working. Imagine losing both of your legs in an accident yet staging a comeback and winning a World Touring Car race four years later. Imagine traveling from a standstill to over 200km/h in four seconds or feeling more g-force than a jet fighter pilot. You no longer have to image. It's all in The Kingfisher Motorsports Encyclopedia.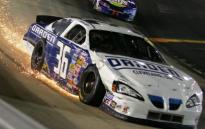 The book is packed with over 60 profiles of the all-time great riders and drivers, the most notable circuits, races, teams and vehicles and a comprehensive explanation of the many major classes of motor racing including Formula 1, rallying, NASCAR, Indy and Champ Cars, touring, sports and endurance racing, in fact, everything from Le Mans to Lawnmowers!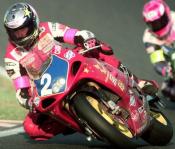 Many motor racing books exclude two-wheel racing; something Clive wanted to resolve as a trials bike rider in his distant past. This book includes great action images of leading bikes and racers as well as detailed sections on MotoGP, Superbikes, Motocross, Enduro and Supercross as well as trials riding and sidecar action.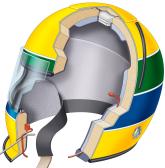 There are also in context sections explaining motor racing's development, its financing, the technology and how it works and safety issues. Clive wanted the book not just to include all the facts and achievements of the great racers but also to act as a spectator guide explaining everything from marshals' flags to overtaking tactics and rallying techniques.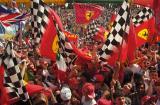 Motorsports arouses great passion in its millions upon millions of fans. There have been precious few if any books for children and young adults which provide a true guide to motor racing, explaining all its hows and whys. The Kingfisher Motorsports Encyclopedia aims to provide that guide.

Download a sample double page PDF on running a race team (280kb).

Download a sample double page PDF on motorsports triumph and tragedy (890kb).

Download a sample double page PDF on Ferrari and other great motorsports marques (980kb)
WIN A COPY OF THE BOOK!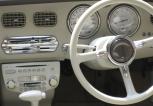 After 20 years of driving some wrecks of cars such as old Vauxhall Cavaliers and a Morris Ital that was more rust than roadgoing vehicle, Iíve finally bought myself a fun car.

Itís a Nissan Figaro Topaz, one of only 2,000 made in Japan, and is designed like British roadsters of the 1950s and 1960s. Although far from sporty, it handles beautifully, feels great to drive, attracts smiles and people let me out at tricky junctions, but itís currently missing one thingÖa name.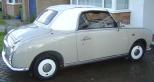 Iíd like you to name it. Have a think and email in your name (only one per email) to
Name Clive's Car
. I will pick my favourite name during July 2007 and the winner will receive a free copy of the Kingfisher Motorsports Encyclopedia.