Humanities
Lonely Planet - Not For Parents: Africa & Europe
Not For Parents: Africa, Europe (Lonely Planet) As a long-haired 22 year old trekking around far-flung parts of the world from Eritrea to Easter Island, I would have been lost without Lonely Planet guidebooks. So, it was an utter delight, many years later, to work with the Lonely Planet team to produce these occasionally bonkers books on the lighter side of continents of Africa and Europe. The titles are packed full of unusual stories about places, people, creatures and culture with the emphasis on the fun, the irreverent and the memorable.

"If your kids (or you) are into outrageous fun and intriguing facts, these books are for you. Beautifully-laid out and designed with photos, illustrations, diagrams and maps, they will fulfil the most fussy of voyagers, and are also a priceless research tool." - Kids Book Review

Why not download a double page from the Africa book about the amazing carved coffins of the Ga-Adangbe people of Ghana.

Way To Go
---
True World War Stories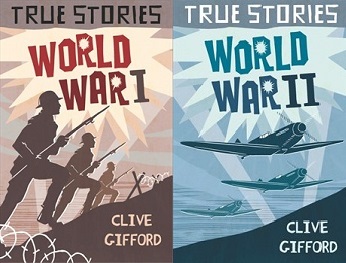 I wrote these two books back in the early noughties and am delighted to see them republished by Wayland in 2014 together with updated resources, books and websites and fresh new covers. The books each contain a collection of gripping tales about individuals at war, their bravery, ingenuity and resourcefulness and how they strived to make a difference.
---
Dreadfully Deadfully History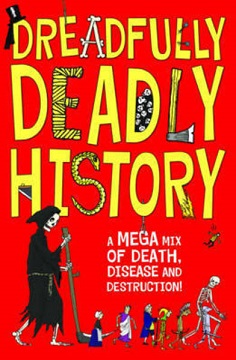 Clive was told to, "Give us the gore, Gifford." By commissioning editor, Elizabeth Scoggins for this in-depth book about death throughout history. He tried his hardest not to disappoint. There's nothing to fear here, but plenty to excite and surprise from societies formed to protect people from burial alive and gruesome ways to go to great, grisly projects including make your own shrunken head!

"I really love this book…I felt disappointed when I finished it. It is great for people like me who love trivia and like a little bit of gore." – The Guardian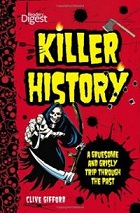 This book has been also published by the Readers Digest with the snappy title, Killer History.
---
It Happened Here First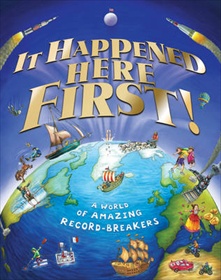 Kingfisher are renowned for their high quality thematic atlases and I was keen on doing something different to extend the range. And this is it, an atlas highlighting where and when a selection of unusual discoveries, inventions or events first occurred. The book covers all parts of the world from Arequipa to Zanzibar and includes the world's biggest hamburger, the first person born in Antarctica and the first camel in Australia (his name was Harry) amongst over 500 other facts to amaze, amuse and astound.
---
Food And Cooking In...
A mouthwatering and surprising collection of accessible historical recipes for children are combined with detailed explanations of the roles of farming, markets, kitchens and cooking techniques in four historical eras: Ancient Egypt, Ancient Greece, Ancient Rome and in the time of the Vikings.

"Congratulations to the author for this brilliant, original idea and for seeing it through so accurately and entertainingly." - online review.



Download a sample on the use of honey in Ancient Egypt.
---
21st Century Lives: Millionaires
Part of a groundbreaking series from Wayland, Millionaires looks at a number of rich men and women looking at how they made their fortunes.

"This is an original and exciting guide to a mixture of young talented entrepreneurs and familiar millionaires." – The British Council.

---
Tomb Hunters (Scholastic)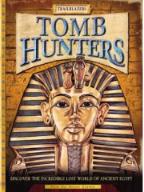 Bringing the world of the Ancient Egyptians alive, Tomb Hunters offers readers a thrilling chance to explore. Pull-out maps show the Nile, the inside of temples and the layout of Rameses III's tomb. Canopic jars open to reveal their grisly contents whilst flaps reveal all three coffins of Tutankhamen.
Press the solid jewel in the cartouche to reveal a secret drawer full of additional materials from a press-out and build pyramid to stickers and even a board to play the Ancient Egyptian game of Senet on.

Download a sample page
on pharaoh Tutankhamen
---
The Kingfisher Student Atlas of North America

This 192 page is more than a collection of maps. It features coverage of the physical and human geography of North America, its peoples, industries and impact on the environment.

"Current, accurate, well-written, informative, and very accessible for the intended audience." - Library Media Connection
---
World Issues: Refugees (Belitha Press)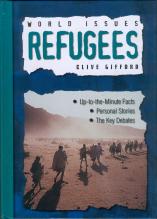 "The World Issues series tackles a range of subjects which, by their very nature, are difficult to present in a clear fashion, yet Clive Gifford manages to do just that in his book, Refugees. Each section responds to key questions such as 'What is a refugee?' and 'Why don't governments do more?' The information is superbly presented with a mixture of photographs, personal experiences and factual information which is absorbing and thought-provoking. The varied presentation of information through visuals and text helps to engage the reader in what is often a difficult and controversial subject." The Book Trust

Nominated for the British Book Awards 2004.

Used as source book for play, "Gods, Monsters and Body Ironing".
---
How Did It Happen: The Vietnam War (Watts)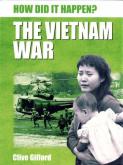 Children's books on the Vietnam War are numerous. Most are designed to answer the, "what?", "where?" and "when?" questions. Few attempt to look in detail at the most crucial question of all - "why?"

How Did It Happen: Vietnam traces the background and origins of the conflict and uses extensive quotes, maps and turning point panels to explain the reasons for why the war developed in the way that it did.

"This is a truly excellent piece." Dr James Vaughan, Department of International Politics, University of Aberystwyth
---
Weathering and Erosion - Smart Apple Media

Part of the Looking At Landscapes series, this title focuses on the many and varied agents of weathering and erosion which shape our planet's landforms. From caves and karst landscapes to erosion and deposition by moving water, the book also contains a major section on the impact on human existence of these powerful forces.
---
Voices: Gangs (Evans Brothers)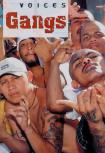 Voices is a series which uses primary source quotes from those on the front line of an important issue to help explain and illuminate that issue to teenaged readers.

This book deals with the rise of urban youth gangs, the links between crime and gang activity and the pressures on young people to join gangs. It features a clear narrative guide between the quotes as well as stats and facts panels.
---
Advertising & Marketing (Heinemann Library)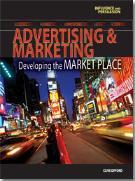 Advertising is all around us and has had a profound effect, not just in promoting goods and services but on changing attitudes in society.

This book conveys how quickly advertising has developed and the key media and tools it uses. This illuminating guide also deconstructs and explains many of the increasingly sophisticated techniques used in its messages.

"This book succeeds in covering comprehensively many aspects of the advertising industry today…Throughout the book there is also awareness of the effects of advertising on the consumer. Highly Recommended." – Austral Ed.
---
The Kingfisher Geography Encyclopedia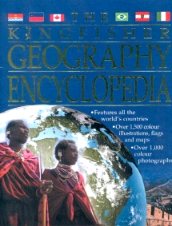 Clive writes: "Writing a 500 page encyclopaedia was an enormous challenge and one that I enjoyed immensely. Muyself and the rest of the team worked long and hard to ensure that as much fascinating material about the peoples and places of the world was crammed into what I hope will be a valuable reference guide."

"An up-to-the-minute geographical resource, full of facts and figures that will amaze and inform all the family. Superb photographs complement the country's descriptions, and there is an excellent gazetteer. Starred Choice." Publishing News

"This authoritative encyclopedia charts every corner of the Earth in vivid detail, with exciting photos, fascinating maps, and up-to-date information on countries."
American Booksellers Association

Stop Press: Winner of Notable Children's Trade Book in the Field of Social Studies 2004
---
The Arms Trade (Belitha Press)

How are arms manufactured? What is the role of an arms broker? How much is spent on arms every year? Why are landmines such a problem? Are guns easy to obtain?

From issues surrounding small arms and child soldiers to arms control agreements and embargos, this book strives to answers readers' questions on this confusing and complex topic.


Arms Trade Facts
* Every 15 minutes, someone is killed or injured by a landmine.
* 85% of all arms spending ends up in just five countries.
* In 2000, Angola spent 22% of its entire budget on arms.
* AK47 assault rifles can cost as little as US$15 in some nations.
---