PHONICS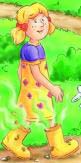 Tell Kelly
that her wellies
are very smelly!
Children are fascinated by sounds. Words are made up of distinct sounds known as phonemes. Rhyming games in schools and at playgroups one example of how importance is attached to learning words through sound use. Phonics reading schemes harnesses this interest and focus on the repeated and clear use of target phonemes in text and how they are blended together to form words. This enables children to build up a vital understanding of the relationship between words on the page and the words they speak.

Captain Chips
steers his
Fish Shop Ship
Research has proven time and time again that building an understanding of the key sounds inherent in words can improve a child's powers of reading, spelling and comprehension.
"Pre-school and kindergarten children who receive systematic beginning phonics instruction, read better and spell better than other children."
US National Reading Panel
"The Panel determined that systematic phonics instruction leads to significant positive benefits for students in kindergarten through sixth grade and for children with difficulty learning to read."
US National Reading Panel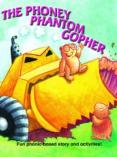 The Phony Phantom
Gopher (Letts).
I fervently believe that using phonics reading schemes empower children. I have been delighted to work on Phonics schemes for three leading publishers: Hodder Children's Books, Ladybird and most recently, Letts.
I was commissioned by Letts to create a 20-book complete phonics reading scheme for children. The scheme, called Letts Active Readers, consisted of four meticulously-graded learning levels from 4-5 years through to 7-8 years.
Explore all 20 Letts Active Reader
titles at One Stop Education
See Inside all the Letts Active Readers series at www.amazon.co.uk. Just type, Active+Gifford to call up all 20 titles.
I considered dozens of original plots, characters and storylines. The aim was to create stories which would stand alone as entertaining, engaging fiction for children to enjoy whether being read to or taking their early, important steps in reading aloud and for themselves. These stories rise in complexity through the age ranges.
Variety of genre and approach was key to building a series that will keep young readers interested as they grow and develop their abilities. The books range from gentle, young friendship tales (Meet Pete's Big Feet, There's A Slug In My Mug) to mysteries (Spike's Crime Time) ghost stories (The Fair of Fear) amazing alien stories (Mr Martin's A Martian) and musical tales (A Big Hit For Kit, King Zing's Gong Song).
Download a spread from Trumps (pdf)

Get Acrobat pdf reader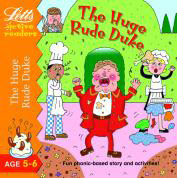 All the stories and their illustrations were carefully chosen for their freshness, ability to entertain and to feature extensively throughout their text, the key phonemes and letter blends we wished to convey and reinforce. So, for example, one book for 5-6 year olds focusing on the /u_e/ (magic e) phoneme, became the tale of The Huge Rude Duke. The most incredibly greedy and nasty nobleman imaginable who gets his comeuppance when a young housemaid comes up with a cunning plan.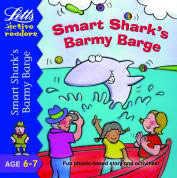 In another book focusing on the /ar/ and /er/ phonemes and the tricky /lf/ and /sk/ endings to words, I developed the story of
Smart Shark's Barmy Barge
where a basking shark leads a group of animals including a wolf and a calf on a daring escape from a cruel safari park.
Phonics schemes give children the building blocks with which they can develop not only their reading but also their spelling, word understanding and written English. This was reflected and reinforced in the Letts Active Reader series by placing an interactive exercise on the facing page of each spread. These exercises stem from simple assisted spelling, vocabulary, handwriting and phonics reinforcement at the youngest age groups up to fundamental elements of grammar, composition and comprehension at the oldest age groups. In all cases, they reflect and reinforce the words and phonemes found in their facing story and the answers are found at the back of each book.
"Students also show significant improvement in their ability to understand what they read. Similarly, phonics instruction helps older children spell and decode text better."
US National Reading Panel.