FOOTBALL
MOTORSPORTS WEB LINKS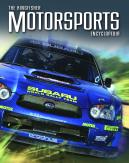 There are dozens of great websites found in The Kingfisher Motorsports Encyclopedia. Here are some additional sites. If you'd like to recommend a site, send an email to Motorsports Websites.
FORMULA ONE WEBSITES
With the 2007 Formula One season up and running, here are some F1 websites featuring the leading teams and drivers.

www.lewishamilton.com
After a superb third place in his first ever F1 drive, Lewis Hamilton is the name on everyone's lips. Find out more about this young British driver at his official website.
www.fernandoalonso.com
The man to beat after a pair of back to back F1 championships. This is Alonso's official website crammed with data and interesting features.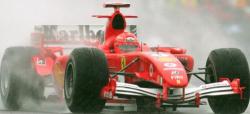 www.ferrariworld.com
The official Ferrari website, frequently updated with features, data and news on their Formula One race team.
www.kimicentral.com
A website dedicated to the driver many think most likely to overturn Alonso this season, the superfast Finn, Kimi Raikkonen.
www.racecar.co.uk/kimi
Kimi 's newly-launched official website packed with flash animations and details of the driver's career.
www.f1technical.net
In-depth technical, statistical and historical analysis of Formula One racing and its teams and drivers' careers.
Team McLaren
The homepage of Team McLaren Mercedes's official website with details of their drivers and cars.
NASCAR AND MORE!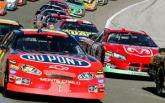 Foxsports Nascar
Fox TV's dedicated webpages on NASCAR with bang up to date news and statistics on the Nextel Cup and its drivers and teams.
www.racingone.com
A NASCAR-focused website with latest standings and news as well as driver and car profiles.
www.whowon.com
Excellent news website focused on many aspects of racing in North America including drag racing, karting, sprint and midget cars.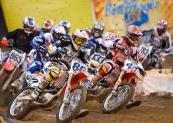 www.fim.ch
Homepage of the FIM – the body that runs many of the world's major motorcycling racing competitions including Enduro, MotoGP and Superbikes.
UK Motor Sport
A chaotic but incredibly useful site which contains hundreds of links to other motorsports websites. Use the 'Tell Me About' pull down menu to select a particular type of racing from rallying to drag racing.
READY STEADY MOW!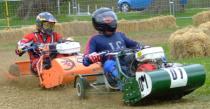 We're not kidding. Lawnmower racing is a deadly serious business and is covered in the book. Here are some websites devoted to this eccentric but very exciting brand of low-cost motorsport.
www.racemower.co.uk
Homepage of the British Lawn Mower Racing Association with lots of information on events, getting started and the different groups of lawnmower racing classes.

www.letsmow.com
The official website of the US lawnmower racing association complete packed with downloads, rule books, news, great photo and video galleries and event details.
FAST FEMALES
Motor racing is not just for boys. There have been many successful women drivers and riders in a range of different motorsports classes including Lella Lombardi (the first woman to score championship points in Formula One) and Danica Sue Patrick, the first woman to lead the prestigious Indy 500.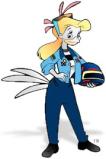 www.racerchicks.com
A terrific website packed with profiles of great and up-and-coming women racers.
www.formulawoman.com
The official website of Formula Woman, the first major all-female racing competition with details of drivers and race events.
www.bwrdc.co.uk/
Homepage of the British Women's Racing Drivers' Club.
www.motorfem.com
A handy news site concerned with the latest results and achievements of female racers.